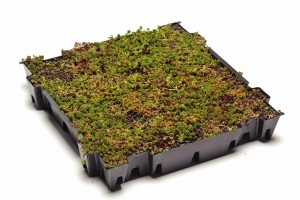 Jongkind Sedum Trays zijn de duurzame en professionele oplossing voor de afvang en afbraak van fijnstof, waterberging, isolatie en biodiversiteit. Ze vinden hun toepassing in groene dakbedekking, daktuinen, rotondes, middenbermen en overige groene decoraties.
Jarenlange ontwikkeling en expertise staan aan de basis van de huidige Jongkind Sedum Tray (JST): een kant en klaar product dat onderling koppelbaar is met ± vier trays per m².
Toepassingen
Niet alleen geschikt voor verschillende typen daken, ook rotondes en middenbermen zijn ideale locaties
Ideaal in combinatie met zonnepanelen. Deze combinatie geeft een hoger rendement van 6 tot 24% op de zonnepanelen
Diverse gemeenten verstrekken subsidie voor sedum trays, zowel voor MKB als consument. De subsidie kan oplopen tot 50% van de aanschafkosten van de sedum trays.
Bestellen
Voor meer informatie of bestellen kunt u contact opnemen met Michel Onclin: michel@jongkind-substrates.com of  06 57891116.